Ortofon
Ortofon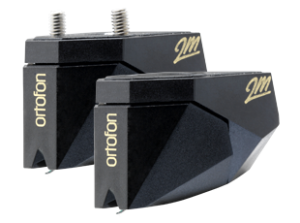 Ortofon 2M Series is a combination of form and functionality
The 2M Series is developed in conjunction with the Danish designer Møller Jensen Design – the same designer who designed the award winning MC Jubilee and Kontrapunkt series. Inspired by the facets of a diamond, whose contours gracefully trace the grooves on a record's surface, the 2M's handsome elegance establishes a great combination of form and functionality. 2M are designed for precise and accurate retrieval of the information in the record groove. Our philosophy is to play the record sound as accurate as possible, without coloring the sound.
The name 2M was selected among several ideas. We wanted a modern name which should be easy to pronounce and to remember, and therefore an alpha numerical name was chosen. 2M means MM, which is the abbreviation for moving magnet. Of course the 2M isn't just another pretty face. It has been engineered to the highest standards and is congruent with Ortofon's unrelenting commitment to providing the most precise and accurate reproduction possible without coloration.
The 2M Series is available in two configurations: 2M for top mount and the new 2M Verso for bottom mount. Each configuration comprises Red, Blue, Bronze, Black, 78 and Mono models.
The 2M Series features Ortofon's trademark split pole pins, an invention which enables moving magnet cartridges to have a flat frequency response as with a moving coil cartridge.
The 2M Red, 2M Blue, 2M 78 and 2M Mono use an improved engine, which provides an optimized sound reproduction and a high level of sonic accuracy.
The 2M Bronze and 2M Black use a special upgrade engine, featuring split pole pins with a silver plated copper wire.
Both 2M 78 and 2M Mono use a strapped output to deliver the same output signal from both sets of pole pins. This effectively eliminates the need for mono-specific equipment, making it possible to enjoy true mono reproduction on any stereo playback system.
Ortofon SPU Cartridges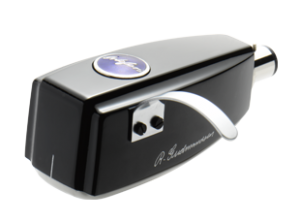 Ortofon's SPU cartridges continue the tradition of the first ever Moving Coil cartridges as originally engineered by Mr. Robert Gudmandsen and produced by Ortofon in the late 1950s.
Praised for their refined linearity and full body, the SPU phono cartridges have remained a favorite throughout the years, both for modern and vintage high-end applications.
Various types of SPU are available, from ones suitable for early mono and 78 playback right through to silver coiled marvels with the latest Replicant stylus profile.
The full Ortofon range is available from us to order.