Naim Muso



Mu-so is our first wireless music system. Its advanced yet simple to use connectivity includes AirPlay, UPnP™ streaming, Spotify Connect, Bluetooth (aptX), iRadio, iOS and Android app control and multiroom capability.

Six 75 watt digital amplifiers, one for each of the six custom-designed speaker drivers, deliver a total of 450 watts of power and a carefully designed porting system moves large volumes of air with low turbulence for serious bass kick from a small cabinet.

There are many elements of design that make mu-so a unique system.
The wooden speaker cabinet is wrapped in a layer of anodised aluminium to provide a natural, distortion-free sound and the extruded aluminium heat sink maximises thermal performance. The system of illumination around the touch panel control interface took months to perfect and an antenna system which delivers seamless and robust Wi-Fi connectivity without the need for an external aerial.
Tivoli Audio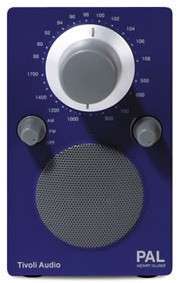 PAL Portable Radio $349. blutooth version $449
Yes, there are bigger iPod players but if you need something that sounds terrific, is easily moved around, and was designed to work with your iPod, nothing does it like the PAL radio. The PAL delivers sound that must be heard to be believed from a player this small. In terms of bass, clarity, and loudness, the Tivoli is in a class of it's own.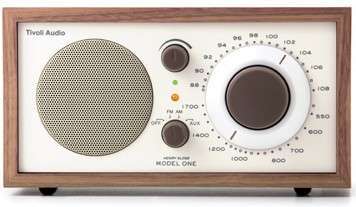 Model One AM/FM Table Radio $349 blutooth version $449
The Model One has a tuner that brings clarity to many of the weakest stations. Like all Tivoli Audio products, the Model One AM/FM table radio is compatible with iPod and other players. The Model One is tiny but powerful.





Model Three Clock Radio $549
The Model Three clock radio features a tuner – originally developed for cellular communications – that brings clarity to even the weakest stations. "Not just the best looking clock radio made…it's one of the most beautifully crafted home audio products ever." (LA Times)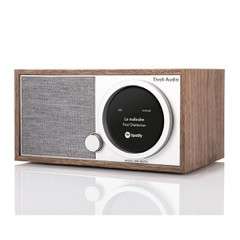 Model 1 Digital $599
Balancing style technology and audio quality the Model One Digital is a radio for the modern era. It delivers a new spin on the original Model One by offering FM, Wi-Fi, and Bluetooth®. It merges the simplistic elements and user-friendly features Tivoli Audio's classic line is known for, but with a tech refresh.
The multi-operational dial and digital navigation screen make changing stations or streaming playlists simple. Its classic styles makes the Model One Digital the perfect complement to your home.
Klipsch
The Klipsch Capitol One $699
Designed to be a semi-portable tabletop speaker, is a 2.1 stereo system featuring Bluetooth® wireless technology and analog audio input connections. The product is biamplified and professionally tuned by Klipsch engineers for superior sound. The One features two 2 ¼" full range drivers and a 4.5" woofer to deliver a crystal clear acoustic performance with great bass. The One comes with an 8-hour rechargeable battery and is available in two species of real wood veneer, walnut or ebony.

More Tivoli Audio Products Available - Please Email for pricing and availablity