Vinyl Essentials
Auditorium 23 Record Mat
The A23 record mat is black, thin and a nice upgrade over stock mats. There are no static issues and they sound great. These are usually in stock. Also available is the Homage record mat by A23.
These both work really well on Well Tempered turntables.




Spin Clean Record Washer

Fantastically simple and effective way to clean those precious records you have stored away.
Economical to use, the fluid lasts for ages! We sell lots of these and only ever have positive feedback from customers.
Milty Zerostat
The Zerostat 3 is effective at neutralising static charges on virtually any surface without the need of sprays.
The Zerostat 3 incorporates a unique Piezo Crystal device which generates a positive electrical charge of ions with one gentle squeeze of the trigger, and a negative charge on the release of the trigger so cancelling the charges on the disc. Each squeeze of the trigger results in a discharge which when stated in units of charge, is 1.5 Coulombs. One can reasonably expect on the order of 10,000 "squeeze cycles" during the lifetime of the Zerostat unit. No batteries or electrical supply required. Static reduction lasts for hours. No polymer residue is left behind.
Constructed from durable hard plastic, it requires no batteries or refills and is a long-lasting alternative to cleaning brushes.
MoFi Stylus Cleaner
Revolutionary stylus cleaner and lubricant
Simple, easy to use
Improve the sound of your analog system
Extends the life of your phono cartridge
Reduces record wear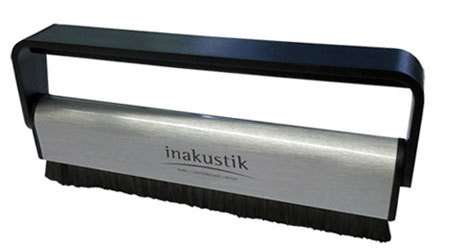 Inakustik Record Brush $20
Antistatic
Eliminates static discharge on both side
More than a million conductive carbon fibre
Protective guard with stripping edge for cleaning the fibre
Reduces crackling noises